From Wikipedia's page on Bereavement in Judaism
Visiting the gravesite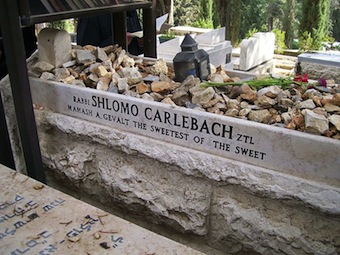 The grave of rabbi-singer Shlomo Carlebach in Jerusalem is piled with stones left by visitors.
Some have a custom to visit the cemetery on fast days (Shulchan Aruch Orach Chayim 559:10) and before Rosh Hashanah and Yom Kippur (581:4, 605), when possible, and for a Yahrzeit. During the first year the grave may be visited on the shloshim, and the yartzeit. Even when visiting Jewish graves of someone that the visitor never knew, the custom is to place a small stone on the grave using the left hand. This shows that someone visited the gravesite, and is also a way of participating in the mitzvah of burial. Leaving flowers is not a traditional Jewish practice. Another reason for leaving stones is to tend the grave. In Biblical times, gravestones were not used; graves were marked with mounds of stones (a kind of cairn), so by placing (or replacing) them, one perpetuated the existence of the site.
No, we're not Jewish but I have been asked that a lot since I started giving everyone rocks to keep with them until they return to Tess's grave. Our rock thing came from an entirely different place. Tess was into rocks; the girl spent forty bucks on a funky, crystallized, crusty one not too long before she left us. I, too, am into rocks. Tess and I were mentored in our rock love by our friend, Jan, who knows a hell of a lot about rocks. I don't know much, but I know that we found something hopeful and strong in them. Tess and I had dinner with Jan on the Tuesday before she died and a rock discussion ensued when I pulled one out of my little rock bag (yes, I carry a small bag of rocks with me) to ask Jan about this little green one. Tess loved it, wanted it, tried her best to get it but I held on.
After the accident, Jan brought us rocks, big strong ones with properties that would maybe help us. We were all grateful to have them to hold, even the skeptics, not believing all this rock hooey, held on to them. So when they were going to take Tess's body for cremation I tucked the little green rock into the crook her unmovable thumb and hand. Something to help her on her way? That was too much for me to think about then, I just wanted to give her what I could.
Now jump ahead, a month or two or three, who knows, time is a very tricky thing for me now. We have set up the TSR Fund and made a FB page and I am busying myself keeping all things Tess Senay going, so I don't have to deal with the reality of what has happened. I come across the Pittsburgh Center for Creative Reuse Facebook page and what are they selling on this day but ROCKS! Not just any old rocks but odds and ends from the home of a man who made jewelry. So I drove down the next day and got some rocks. They were beautiful rocks and PCCR is an awesome place filled with a ton of funky stuff for artists to change from junk to art.
I had been working on getting things arranged for Tess's burial at the time I found PCCR and it hit me when I saw those rocks that I wanted to use them for her burial. I emailed PCCR to ask if they could let me know if they got anymore of these beautiful rocks. Erika Johnson, the director of PCCR, emailed back with a promise to set aside some rocks for me. She had gone to our website and said to stop in her office when I came back for more rocks. Turns out Erika and her family are kind of rock people too. When I stopped in, Erika sat with me talking rocks, Día de Muertos, art and Tess. I was awkward, still am when I talk about Tess, always fearing I will suddenly find myself facing the force of her absence, but Erika was kind and too generous with her time. Before we went to look at the rocks the PCCR had, she pull out a small basket of rocks from her own collection for me to take home, including one from Robert Smithson's Spiral Jetty in Utah. More rocks would follow and hopefully a continued friendship.
I give rocks out with the request that people keep them close and whenever they look at them to remember Tess. Find a rock you like, seriously not all rocks are as fabulous as others, so take your time and look around, see what you see.
Someday if you come to her grave in Sewickley Cemetery leave a rock, say a prayer. "graves were marked with mounds of stones (a kind of cairn), so by placing (or replacing) them, one perpetuated the existence of the site," and our love for Tess.
Categories: Inspired by Tess