Everyday is hard without Tess. Nothing changes that, but if we can be comforted by anything, this last month's activities made a strong effort. For me it started in Ireland, where I spent Tess's birthday with her grandma, who shares her birthday, and several family members. It was a beautiful distraction. My sister Anne and I were able to spend a few quiet days in the western Ireland which comforted me with it's turbulent weather, cinematic shores and acres of rocks.
The end of May and first half of June was filled with Tess inspired activity, maybe too much, but it was all as good as it could be. Our event marking Tess's 21st birthday and thanking our friends and family for everything was a huge success. We were so happy to see all of the wonderful people that have supported us and loved Tess. We were especially moved to see Tess's friends again. The art auction was awesome and we are very grateful to the artists that contributed their work. Please check out the pictures on our photo page!
It was such a great effort on the part our friends to get the whole thing together. All of the food was donated and made by our friends and family; Lisa Diemert, Kathy Mallison, Jean O'Donnell, Susie Abercrombie, Linda Kelley, Mary Ann Raynovich and Ralph and Maura at Armstrongs! Nancy Lintelman donated cookies that had one of Tess's watercolor images printed on dozens of cookies! They were the most beautiful cookies ever and they tasted really good too. My co-conspirators and the backbone of the TSR Art and Earth Fund, Diana Schwab and Marc Kennedy brought back up in the form of Christopher, Kat and Elizabeth to do all the heavy lifting. Craig Heryford, the Dude/Pied Piper brought in Jessica Lee and friends (which included Craig on drums) to add the perfect music for the night. It was really incredible for Tess's family see all this love for Tess.
On June 7th Tess's parents were joined by the Kennedy/Schwab family and Rachael Diemert, who presented the Tess Senay Raynovich Art and Poetry Scholarships at the Quaker Valley High School Scholarship Night event. The winners were Lauren Stinson and Rachael Houser. You can read more about it on our news page.
On June 17th the first Tess Senay Raynovich Eco Art Camp began! This is a camp sponsored by the TSR Art and Earth Fund in partnership with the Sewickley Valley YMCA. The kids were able to work three different artists during the camp and work with materials and ideas that were completely new to them. Our first effort of matching established artists with aspiring artists went very well. We have posted an album of photos from the camp so check them out.
Lastly, I will tell you that on May 27th at 9:00 am we made our way from our house up to the Sewickley Cemetery. Some of us drove, some walked with Otis. I wore Tess's Timberland leopard print lace up knee high boots and carried her ashes wrapped in the baby quilt, her Aunt Mary had made for her and that we had brought her home from the hospital in when she was born. Her cousins, Dan and Maureen, played a beautiful Woody Guthrie song, Joey read a poem by Irish poet John Donahue, Bennecht (Blessing) and Tess's Uncle Mike spoke and also read the Serenity prayer. It was tough to watch as her family and friends put scoop after scoop of dirt down but it also felt like the right thing to do. Everyone took a rock from our pile of special rocks (a story for another blog post) and we asked that they keep it close to them and think good thoughts for Tess and all of us when they look at or touch it. So we left, we left with rocks in our hands and Tess's spirit in our souls. Please, let us keep her close.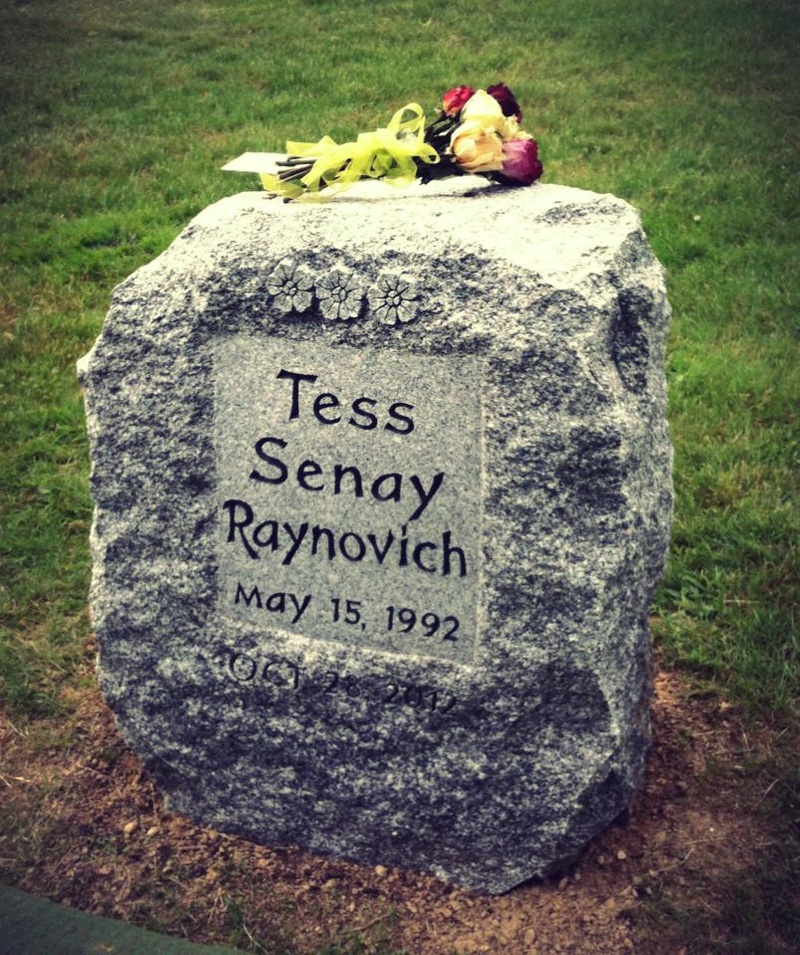 Categories: None