Tess had told me about the tattoo she was planning to get. At the time she was in Juneau, Alaska and her oral description of what she wanted sounded more thought out than most, but I was against it. "Just think about it more," I said. Inside I wanted to call her Uncle Toe who she was staying with, and tell him to go to the tattoo parlor and tell them if they tattooed that girl there would be hell to pay. Juneau is a very small town surrounded by mountains and water so this could have delayed things anyway. At least she couldn't get to another tattoo parlor very easily. The only thing was that Tess was an adult, and had lived her life in a way the demanded respect from even her tattoo hating mother. So I listened to her plan. Her tattoo was designed after a block print children's book called St. Francis Preaches to the Birds originally published by Janus Press. She had kept that book with her everywhere she went. This warmed my heart but still I said, "just wait."  
When Tess arrived home and rolled out of the car that she had come across the country in with her friend Jim, it was a hot late summer night. I was so happy to see her, we had never been separated for so long before. We hugged, talked to Jim for a moment and carried her bags all the way into the house before I saw it. It was HUGE. The colors were bold. I just stared.
"Do you like it?" she said while laughing. "Let me explain it. See the black border is just like the book prints and the sun is for nature, which I love, and that's my body," pointing at the naked female body nestled under the sun, "and these are clouds for all my dreams. They didn't do the clouds very well, they look like mountains, oh well. Then the color blocks on the bottom are for all my emotions. What do you think these are?"
I looked at the three yellow flowers that sat in row just above the border of the rest of the tattoo. "What?" 
"They're for the sisters, Anna, Mia and me," smiling down at her arm, "now no matter where I am I can look at this and remember what's important."
Love Tattoo.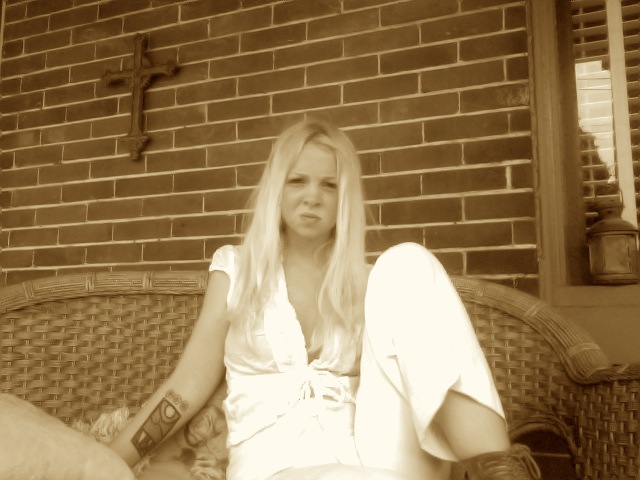 Categories: Memory